Abdulrab Salem Ali Sawad wins HIPA's Night Photography' competition
The competition was launched on Instagram and was hugely popular with the photography communities, as they were encouraged to showcase their night photography skills.
ArtDayME: The Secretary General of the Hamdan bin Mohammed bin Rashid Al Maktoum International Photography Award (HIPA) announced the winning photos of the night photography competition in cooperation with HUAWEI XMAGE; Huawei's highly advanced imaging technology, available on its latest devices. The competition was launched on Instagram and was hugely popular with the photography communities, as they were encouraged to showcase their night photography skills.
The competition comes as an extension of the partnership between the two entities, which saw the successful collaboration on the HUAWEI Themes platform, that presented more than 120 photographs provided by HIPA under 11 themes of artistic imagery. Owners of Huawei smartphones, foldable phones, tablets and smartwatches are able to explore a world of award-winning HIPA photography in stunning detail and creativity through a series of new Themes.
First place in the competition was won by Emirati photographer Abdulrab Salem Ali Sawad, second place was won by Azim Khan Ronnie from Bangladesh, third place went to Saudi photographer Faisal Saleh Aljrifani, while Spanish photographer Shadi Nassri came fourth, and Indian photographer Riyas Kulangarakath Muhammed came Fifth.
First place winner, Emirati photographer Abdulrab Salem Ali Sawad, expressed his happiness at all the controversy surrounding his winning photo, it deceived the public because it appeared to have been taken during the day and not at night. He explained, "I expected the picture to receive a lot of criticism, but the most important thing is the knowledge and experience of the HIPA jury, who were able to scrutinize the data and verify its accuracy and timing."
Abdulrab added, "The picture is of a landscape in Iceland and the name of the mountain is Vestrahorn. We were on a night flight to observe the Northern Lights and we were unsuccessful, yet I was drawn to the view of the mountain and the reflection of the moonlight and the stars. I decided to take a picture with long exposure to introduce the largest amount of light possible, then I took a panoramic picture with higher exposures. I took different ones so that later I would be able to combine them with the utmost accuracy".
Sawad, clearly deserving of the first prize, a Huawei P60 Pro device, concluded by saying "I would like to extend my thanks and appreciation to HIPA for enriching the art scene locally and internationally through the annual competition, exhibitions of artworks, sub-competitions, and many other activities".
Saudi photographer, winner of third place and the HUAWEI WATCH GT 3 award from Huawei, Faisal Saleh Aljrifani, said, "My winning photo was taken in Al-Ula in 2022. We were on our way back from a photography trip, and while searching through our navigation tools, this site appeared to us, so we decided to go and film there. Photography is my only source of income, so I am ambitious in this field and constantly developing my skills. I am very happy with the win because it will help enhance my CV and build relationships with photographers".
Spanish photographer, winner of fourth place in the competition and the HUAWEI WATCH GT 3 award from Huawei, Shadi Nassri, explained, "This shot was planned to place the arm of the 'Milky Way' above the lavender tree. It was a wonderful moment under the stars during which all my senses were activated. It was in the northeast of Madrid, in the small town of Brihuega, with a Nikon Z6 ll and a 35mm lens".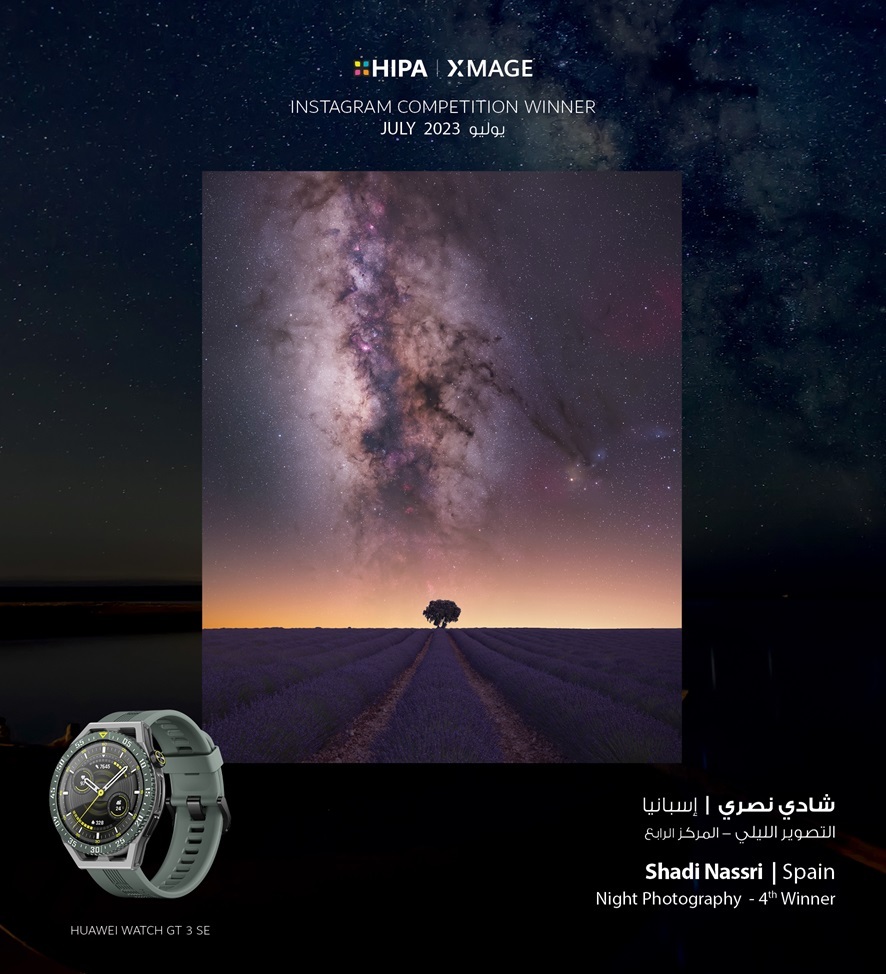 HIPA Secretary General, Ali Bin Thalith, expressed, "I am pleased with the results of our collaboration with Huawei that inspired talented individuals and encouraged photographers to capture moments that make people happy. With competitions like these, come opportunities to touch on unique talents held by the photographer. This competition has set itself apart through its exceptional theme, diverse pool of participants, intriguing controversies, lessons learned from the judging process, and exacting criteria used to evaluate the entries. The winning and shortlisted works were distinctive and inspiring, delivering the perfect twist that captivated our social media audience."
Bin Thalith added "Another testament to the power of photography as a medium of expression, is the remarkable success of HIPA photography on HUAWEI Themes. With an impressive download of over 800,000 on the official HUAWEI Themes store, it makes it the second highest downloaded content after the official Huawei content".
Mr. William Hu, Managing Director of Huawei Consumer Business Group, Middle East and Africa Eco Development and Operation, said "We take immense pleasure in HUAWEI Themes' ongoing collaboration with HIPA, to bring our users an elevated experience through creative photography. We are thrilled about this competition, dedicated to the captivating world of 'Night Photography', as it serves as a universal invitation to photographers of all backgrounds, urging them to unleash their limitless creativity and capture the enchanting beauty of the night."